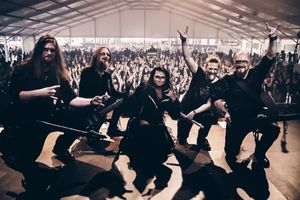 hexed-EPK
Hi there!
Thanks for checking out this content and we really hope you both like what you can see, read and hear on this page. We welcome you to come back to us and hopefully even together with an interesting offer that we can continue to talk more about. If you have any questions or concerns just contact us and for further discussions.
Sincerely!
HEXED
release-2022
album - "pagans rising" (2022)
(ViciSolum)
"The Swedish Symphonic Progressive Metal band is back with their second album "Pagans Rising". Along with the powerful lead vocals of Tina Gunnarsson. This concept album definitely has great songwriting mixed with strong choruses and male growl. It´s a perfect blend of spellbinding guitar melodies, chugging riffs, dark symphonic orchestrations and progressive elements. It has been written with inspiration and history of Sweden's witch-hunting hysteria in the late 17th century. This release is a much heavier and darker version of HEXED"
Behind the dark and unique sound of this masterpiece is the talented mixing/mastering engineer - Ronnie Björnström at BLP Sound. (Sorcerer, Meshuggah, Aeon, etc.)
Guest appearance by Jonah Weingarten (Pyramaze)
All artwork is done by Giannis Nakos - Remedy Art Design. (Evergrey, Amaranthe, Oceans Of Slumber, etc)
0:00/5:15

0:00/4:18

0:00/5:49

0:00/4:51

0:00/4:26

0:00/4:58

0:00/5:32

0:00/4:54

0:00/4:25

0:00/4:52
Bandphotos / Flyer / Booklet / Package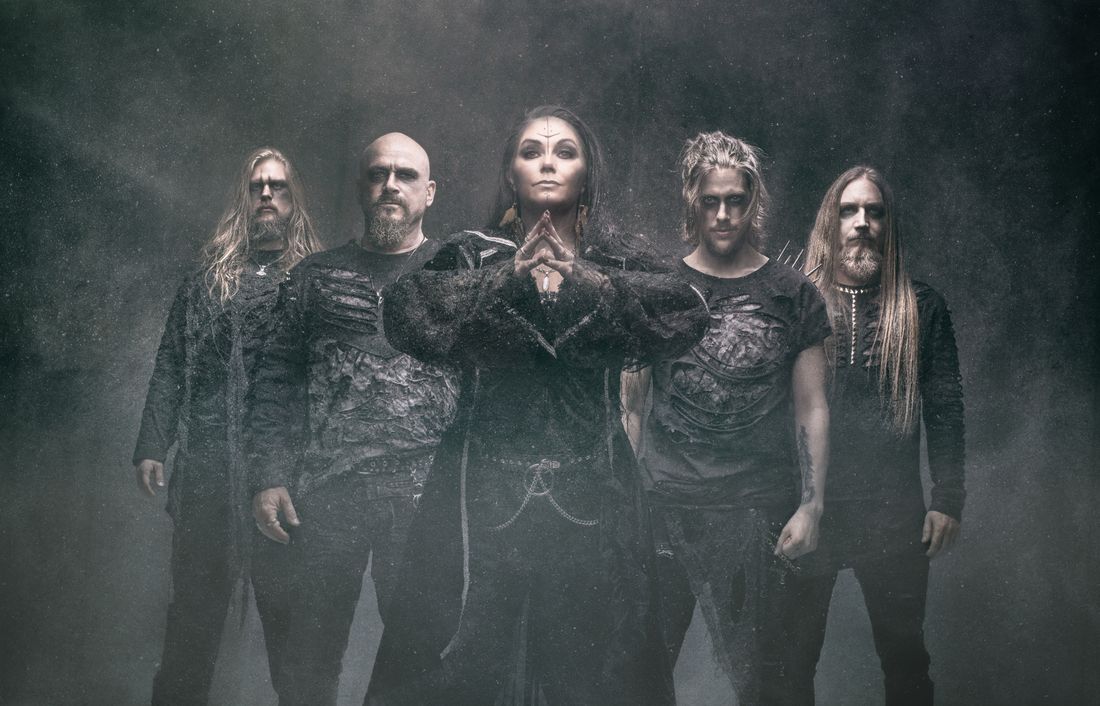 "pagans rising"-reviews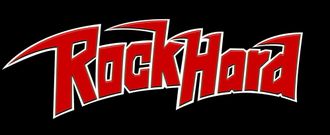 "Overall, a superb display of symphonic metal, Hexed have surprised, amazed, and astounded with a breath taking array of songs" - Metal Gods TV
— 11/10


"The perfect cooperation of the band, the wonderfully laid out space, the rhythm section playing with sensitivity and how mercilessly it develops to mercilessly drop an emotional nuclear bomb" - Metal Melodic Sound
— 9,6/10
"A crystal-clear purchase recommendation for the inclined buyers who like female-fronted metal with a lot of taste, power and without operatic singing" - Metal Garage
— 8/10
"Here we get a whole bunch of captivating heavy works where the favorite Stigma Diaboli stands out and Sweden's answer to Withing Temptation is a fact" - Artrock
— 8/10
"The quintet is brilliantly led by one of the country's absolute best singers, Tina Gunnarsson, and she commands her troops with millimeter precision and a voice that is world class" - Rocknytt
— 4,5/5
"HEXED have done it again, with a standout album that shows the world the unforgiving and fierce songwriting team that they are" - Metal Temple
— 9/10
"Pagans Rising is the result of a pure metal maelstrom of great vocals huge choruses and hooks, great execution, moments of excellent metal, and utter conviction to their craft. It is a vivid tale full of dark symphonic moods and aggression. Hexed are outstanding" - Metal-Roos
— 4/5
"HEXED have created an acoustic blockbuster. "Pagans Rising" completes an epic journey with powerful opulent songs that tell haunting stories with imposing magic" - Metal-Heads.de
— 9/10
"Ah, Sweden… how many more wonderful gifts do you still have for the metal community? " - Tuonela Magazine
— 9/10
"This is indeed Hexed in a darker, heavier place, and it really suits them. They are a great Metal band with an excellent singer who play (take a deep breath…) Heavy/Melodic/Progressive/Power/Speed/Symphonic Metal their own way, how they want to do it" - Ave Noctum
— 8,5/10
singles
Live photos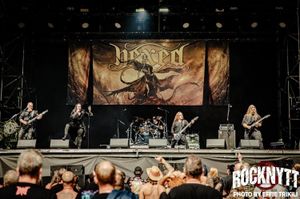 LIVE Review - SKOGSRÖJET FESTIVAL
ROCKNYTT MAGAZINE
HAPPY HAPPY HEXED! The majority of the performance consists of the band's latest album Pagans Rising and with a few contributions from the debut Netherworld. For me, who have seen the band a number of times, you eagerly wait to sink your teeth into something new, but for those of you who still haven't discovered Hexed, that's enough. I personally enjoy songs like Resurrection, Repentance and Blasphemy. You have to see this band live, but prepare to be enchanted!
Rating: 4/5
//ANDREAS ÖSTLUND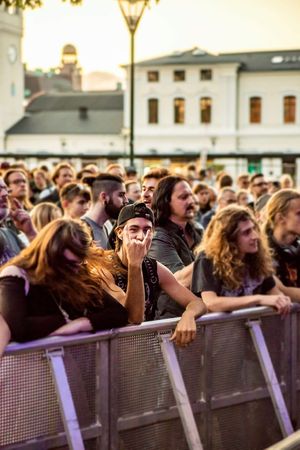 LIVE Review - SWEDEN ROCK FESTIVAL
ROCKNYTT MAGAZINE
We are invited to the fresh track and the upcoming single Resurrection It promises really good, and we are probably many who hope for a new record soon. Despite the short playing time, the hassle, Hexed showed his very best side, and the sound was consistently good throughout the show. I guess it's just to keep my fingers crossed that the band will get back on a bigger stage that they so well deserve. 
Rating: 4/5 
// ANDREAS ÖSTLUND
LIVE Review - SWEDEN ROCK FESTIVAL
THE MALOIK ROCK BLOG SWEDEN
This band gains a lot from stage presence and talent alone! Melodic metal is a balancing act but Hexed with Tina Gunnarsson on vocals reaches a level that I hope will get more attention. Her tone of voice and powerful voice lift the roof of the tent and there are many who get big eyes when they are on their way past who instead turn around and enter the tent when they hear her. This is really good! If you get the chance to see Hexed this summer, just do it! I promise, it's an experience!
/P "The Poseur" Pousar
release-2018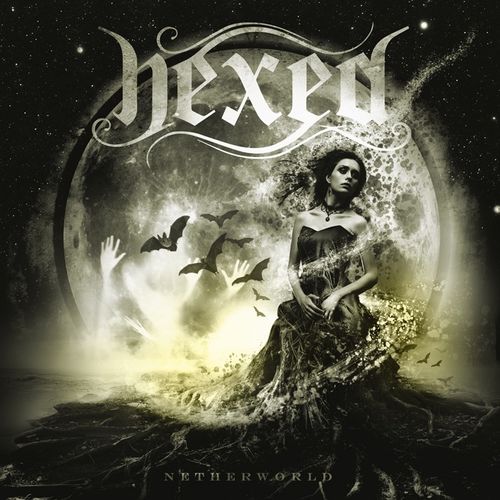 ALBUM - "netherworld" (2018)
(VICISOLUM)
HEXED debut album "NETHERWORLD" containing 10 - tracks. Guest vocals from Thomas Vikström (Therion) Ronny Hemlin (Tad Morose)
"NETHERWORLD"-REVIEWS
"You get solid metal, killer vocals and some interesting thoughts. Worth the shekels required for purchase for sure"
— 9.5/10 Sonic Cathedral
"I can tell you I have been so addicted that I can't play anything else right now just play again and again… help me!!! Ten songs with power and beauty , it is difficult to choose just one they all stand out from themselves and Tina for sure is the siren that lead your spirit out of the dark world to make you happy. For those who haven't yet discovered this amazing band this is the time to. This band will be loved by many who just love music, a band of the year"
- 100/100 - The Metal Mag
10/10 Tamar List - Lyrical Spell Magazine (NLD) "Mark my words, this band is gonna come far, and therefore I rate the album Netherworld by HEXED to a 10 out of 10"
8/10 Kostas Karageorgiou - Metal Nuovo (GRE)  "HEXED - Netherworld is nominated and is a strong candidate for a position to be the album of the year"
4/5 Chad Bowar - Heavy Music Headquarters  (USA) "The guitar attack is varied, ranging from driving and heavy riffs to more accessible sections. Tina delivers an impressive performance" 
8.5/10 Kyle McGinn - Dead Rhetoric (GBR)  "Tina is charged with providing the emotional underbelly to the darker riffage, which is gracefully done. Her vocals are dominating when necessary"
10/10 Ronald - Lee Schaff - Mabe - Kick Ass Metal (USA)  "Vocalist Tina Gunnarsson gets the World-Class Vocalist Spotlight and HEXED is for first time on our TOP 100 ALBUMS list with their debut Netherworld"
 8.5/10 Andy Barker - Ave Noctum Webzine (GBR)  "As if we needed any more proof, Metal is alive, thriving and well in Sweden as long as talent like HEXED is on offer. A great debut that promises even more"
 8/10 Marcin Magiera - Rock Area (POL) "Netherworld" is a professionally produced material, moderately load-bearing and, above all, solid -or, if you like, a successful one, and certainly worth attention" 
8/10 Justin Wittenmeier - Metal Temple Magazine (NLD) "A very strong debut from a band that seems intent on making their mark on the genre. I can't wait to tag along for the rest of the ride"
12/15 Peter Holleken - My Revelations (DEU)  "All in all, a surprisingly strong and highly varied debut album that comes out of the pits astonishingly hard, yet melodically" 
8.5/10 Daniel Waters - Metal Express Radio (USA) "Tina's unaccompanied voice is powerful enough to bring down castle walls and she could take out whole city blocks with her range and strength" 
89/100 Frederik Blieck - Musika (BEL) "All excellent songs, contagious as the plague, a fantastic sound, great vocals by Tina Gunnarsson. Top notch production this has to be a topper in my opinion"
8/10 Conny Myrberg - Artrock (SWE)   "A very strong debut release which promising a lot for the future and I really look forward to witnessing the band live"
release-2017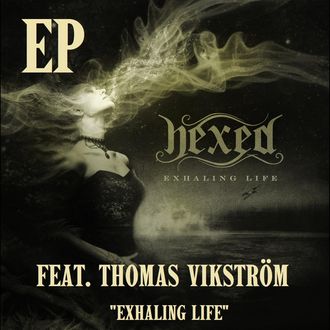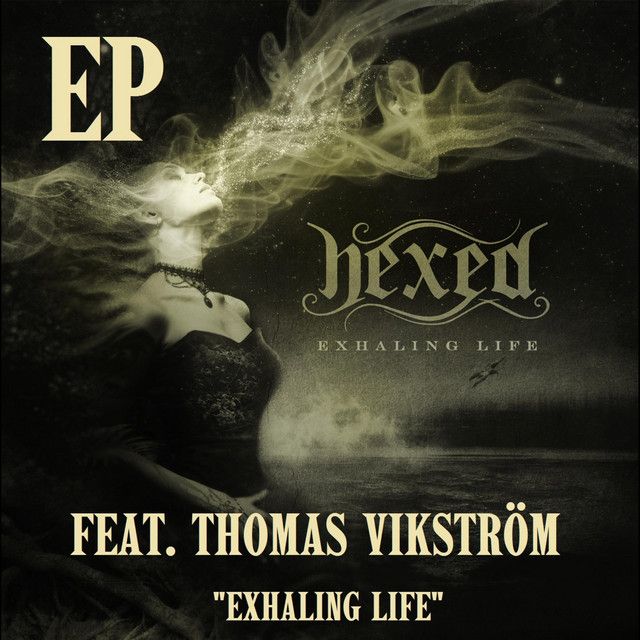 EP - "exhaling life"
Guest vocals Thomas Vikström    (Therion Candlemass)
release-2016